There are several models that look at the learning style of an individual. The most commonly known one is based on a person's informational input preference – Auditory, Visual, Kinesthetic.
Another way is to look at how a person processes that information. With this model, there are four distinct learning styles. Most people will have a preference for one of the four, but to some extent also use the others.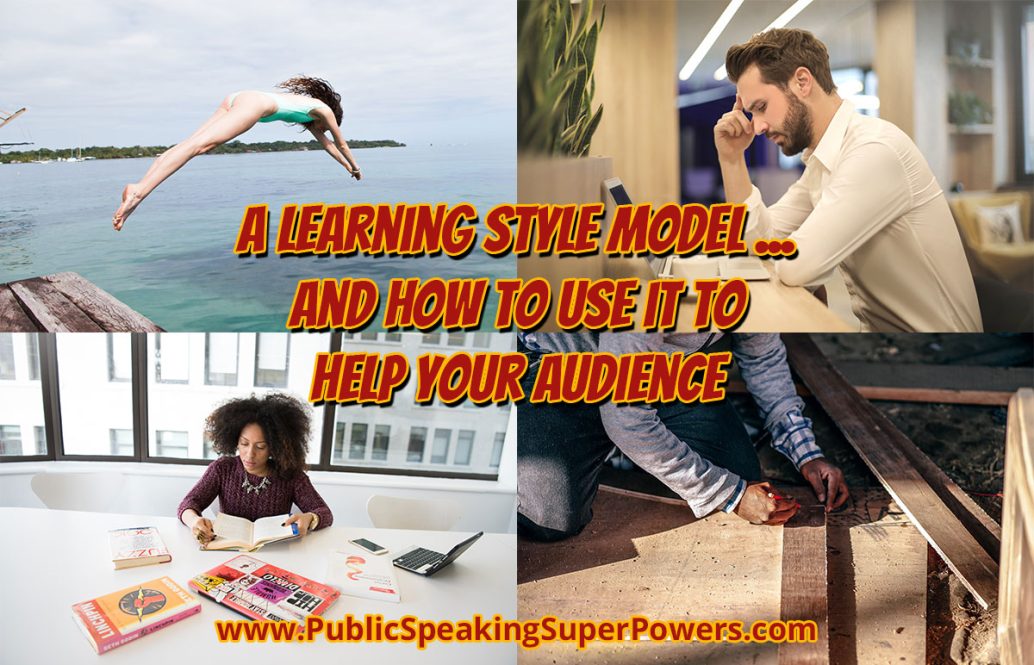 When you understand how your audience processes the information you are providing, you can provide them with information in a way that will engage them more fully. Here are the four styles.
Activist Learning Style
People with an Activist learning style:
Enjoy new experiences and tend to dive right in
Like the excitement of drama or a crisis
Enjoy out-of-the-box ideas
Like using other people as sounding boards
For members of your audience that have this learning style you want to include team activities and exercises that stretch people out of their comfort zone.
Theorist Learning Style
People with a Theorist learning style:
Enjoy theories and concepts
Like intellectual exercises
Perform well in structured situations
Dislike shallow, unsubstantial thinking
To engage these people, you want to include thought experiments and ask probing questions … then wait for people to answer them. Push them to use their intellect.
Reflector Learning Style
People with a Reflector learning style:
Enjoy detailed research
Like just sitting back and thinking
Think before they act
Don't respond well in crises or with time constraints
For these people, you want to back up your points with solid research, facts and figures. If you include activities, be sure to allow plenty of time for them to process the information and participate. You don't want quick, timed exercises.
Pragmatist Learning Style
People with a Pragmatist learning style:
Works well on practical tasks
Enjoy putting things into practice immediately
Need guidelines
Don't enjoy learning that does not have a practical outcome
For these audience members, you need to provide actionable information. Loosey goosey, feel-good inspiration won't work for them. You need to give them something that has rules, guidelines, and a to-do list or a checklist.
Using the Learning Styles in Your Speaking
Another way to look at these learning styles and incorporate them into your seminars and workshops is to see them as stages in a complete learning process. At stage 1 the Activist has the experience. At stage 2 the Reflector reviews the experience. At stage 3 the Theorist makes conclusions from the experience. And at stage 4 the Pragmatist takes action based on the first three stages.
How might you incorporate the concepts in this article to your next presentation? I'd love to read your ideas in a comment below!