Have you ever had to speak before an audience who was hostile toward your topic? If not, it will surely happen sometime. The following tips may help you ease that hostility: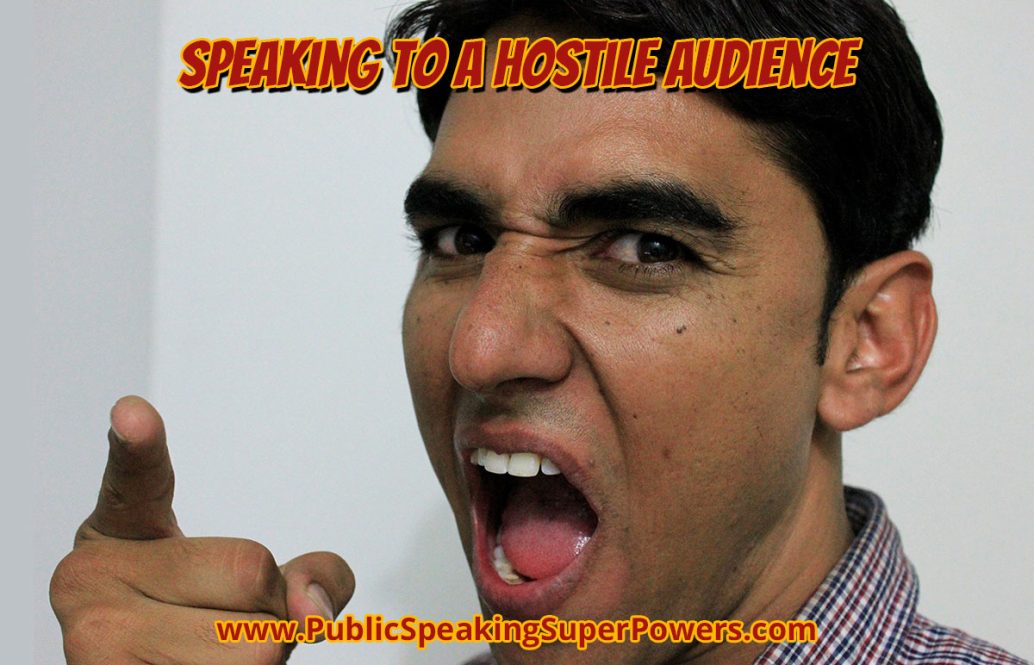 Be attentive and understand the question being raised
A person from the audience is asking you questions just for the sake of asking questions. Do not respond with sarcasm. No matter how challenging the question is, keep your cool and answer accordingly.
Be guided by your speech
When a hostile audience bombards you with challenging questions, go back to the essence and contents of your speech for the answers. This simply shows that you know what you are talking about and emphasizes the message you are trying to convey.
Be the master of your temper
Treat your audience as you would your friends. This way they will feel your sincerity. This also helps establish chemistry between you and the audience. No matter how a part of the crowd pushes you to be irritated, hold that feeling and bear in mind that you are there to talk, not to argue, with the audience.
Be honest
The more honest you are, the more the audience will listen to you. It is far easier to deliver a sincere speech than to play games. Eventually, the audience will know that you are lying if you are not sincere in your message.
Be careful with your gestures
Be expressive but not too powerful. Never use gestures and body language that may tell the audience you wish to dominate them.

From the preparation of your speech to the delivery, there are a lot of things to consider when you are speaking in front of a crowd. When it comes to the challenge of speaking before a hostile crowd, you need to be sure you know your message well.