When you play a major role in a wedding … bride, groom, bridesmaid, groomsman, parent of the bride or groom … chances are you are going to be asked or expected to give a toast or say a few words — the wedding speech.
---
There are no hard or fast rules about giving a wedding speech. It can be humorous or sentimental … or both! Generally, they are short … no more than 5 minutes. But, because this is a once-in-a-lifetime very special event, there isn't a lot of wiggle room for falling on your face. Here are a few tips for helping pull yours together, so when people remember the day and your words, it is with fondness not … something else.
Tips for developing a winning wedding speech
Prepare
Unless you are whiz at speaking off the cuff, don't leave this speech to chance. Prepare what you're going to say in advance.
Focus on the bride and groom
This speech is to congratulate the happy couple on their union. You can talk about yourself, but only as it illustrates something of interest about the bride, the groom or both.
Avoid noticeable notes
It is better not to use notes at all, but if you must, use a small note card with a few triggers to help you remember what to say. Remember, you'll probably be giving your short speech with a glass of bubbly in your hand!
Exude confidence
Whether you feel it or not, you can look confidence by standing up straight, using a strong voice and looking directly at the bride and groom.
Be authentic
Even if you use a template to help you write your wedding speech, you should still be personal and sincere in what you say, and how you say it.
Be polite
This is not the time to bring up bawdy, questionable or sketchy stories. This is the couple's big day … don't embarrass them!
Resources for developing wedding speeches
Did you miss these?
Here are the previous posts in this "Type of Speeches" series:
---
The next (and final) post in this series will be The Farewell Speech.
---
Need help writing your wedding speech?
Inside one of these special reports, you'll find a template that is just right for the wedding speech you are working on.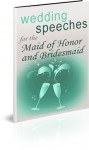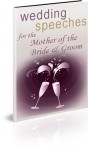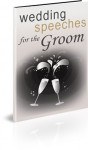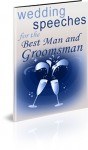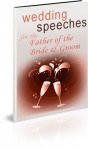 Also available in packages of three (for women and for men) and six.